Tapered or Square Edge Plasterboard?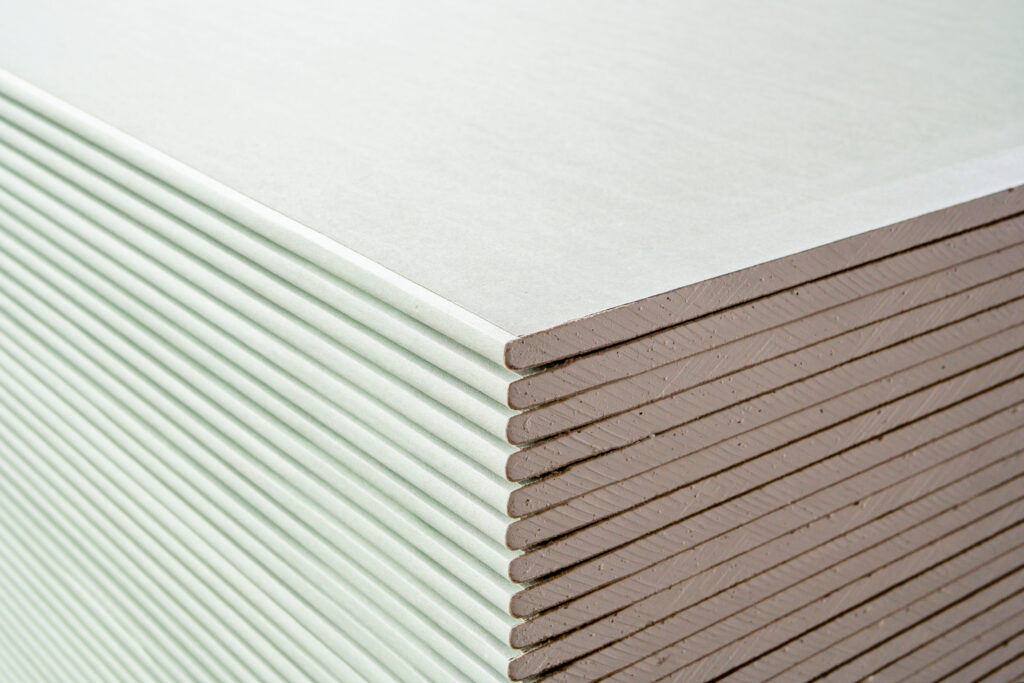 Tapered or Square Edge Plasterboard – it's a subject that sparks many debates among construction professionals and DIY enthusiasts.
Understanding the difference between these two types of plasterboard is essential for achieving the perfect finish in walls and ceilings.
In this comprehensive guide, we'll explore the characteristics, applications, and benefits of both tapered and square edge plasterboard.
Tapered Edge Plasterboard: An Overview
As their name would suggest, tapered edge boards are designed with tapered edges that facilitate the jointing process.
When aligning two sheets of this plasterboard, their tapered edges come together to form a minor groove.
This groove is subsequently covered with scrim tape and filled using either joint filler or jointing compound, a method referred to as taping and jointing. This technique results in a smooth finish that's ready for painting.
Available in both standard and performance categories, tapered edge plasterboard is apt for immediate decoration and meets the standards of most building requirements.
Tapered Edge Boards: Features and Benefits
Tapered Edges: The tapered edges minimise the joint area, making skimming and plastering easier.
Practical: Allows for a faster and more seamless setup of walls, partitions, and ceilings compared to conventional construction techniques.
Versatile Fixing: Can be effortlessly secured to timber and metal partitions using mechanical fixings or to various brick/masonry backgrounds using drywall adhesive.
Flexible Installation: You can arrange it in single or multi-layers to enhance acoustic and fire performance.
Acoustic Properties: Some variants also serve as acoustic plasterboard, dampening sound for a quieter environment.
Installing Tapered Edge Plasterboard
Installing plasterboard with tapered edges requires careful attention to detail. The jointing compound, tape, and precise alignment ensure a perfect finish.
Prepare the Surface: Make sure the surface is clean and dry.
Align the Boards: Place the tapered edge board on the wall or ceiling.
Use Jointing Compound: Apply the jointing compound to the tapered joints.
Add Tape: Place the tape over the joints for added strength.
Finish with Skimming: Skim the surface for a seamless finish.
Find out how to cut and fix plasterboard with our helpful on-site guides.
Square Edge Boards: Characteristics and Uses
Plasterboard with square edges consist of sheets with uniform, straight edges.
The panel's consistent thickness extends across its length, and when you bring two panels together, they create what people commonly refer to as a butt joint.
Square edge is a favoured option for ceilings, as the joints are more flush, making them less noticeable.
Straight Edge: The straight edge plasterboard give a sharp and precise appearance.
Standard Plasterboard: Square edge boards are considered standard plasterboard and are suitable for areas where seamless joints are not required.
Gypsum Board: People often refer to it as gypsum board, and you can use it for both walls and ceilings.
Best Choice for Certain Applications: Square edged boards may be the better choice for specific decorative requirements.
How to Install Square Edge Plasterboard
Installing square edge boards, including square edge board, follows a similar process to tapered, but with some key differences.
Measure and Cut: Cut the boards to fit the walls or ceilings.
Align the Boards: Attach the boards, keeping the square edges aligned.
Skimming: Skimming is required for a perfect finish, although the straight edge may need more attention.
The Differences: Tapered vs. Square
The only difference between tapered edge and square edge plasterboard lies in the edges.
Here's what sets them apart:
Edges: Tapered edge has sloping edges, while square edge features straight ones.
Finish: Tapered allows a seamless finish, while square provides a sharp line.
Application: Tapered is usually the best choice for a flawless surface, while square is sometimes the better choice for specific designs.
Tapered edge plasterboard shines as a premier option for wall applications, regardless of your intended finish. Paint glides over the joints, masking them completely, while the even surface beneath serves as a robust base for tiling.
The tailored design of the tapered edge calls for a specialised fabrication process, nudging its cost slightly above that of square edge variants. But don't fret – the disparity in price is marginal.
Do bear in mind, though, that tapered edge plasterboard has its limitations. It's fine-tuned for flat wall arrangements, and if deployed in corners, it may culminate in angles that shy away from a perfect 90 degrees.
In general, for ceiling applications, the recommended choice is square edge plasterboard, while tapered edge plasterboard is most suitable for the walls.
If you're considering the use of straight edge for walls, keep in mind that this option is suitable only if you intend to skim the boards with plaster.
In cases of dry lining installations where skimming is not part of the plan, the tapered joint stands alone in its ability to be filled, resulting in that sought-after perfect finish.
Conclusion
When buying plasterboard, consider the application, whether it's for walls, ceilings, or specific requirements like fire resistance or acoustic plasterboard.
The choice between tapered edge plasterboard and square edge plasterboard will largely depend on the desired finish.
Whether you choose tapered or square edge, understanding the difference between the two will help you make the best decision for your construction needs.
With careful installation and the right materials, either choice can provide a beautiful and functional surface for your home or project.