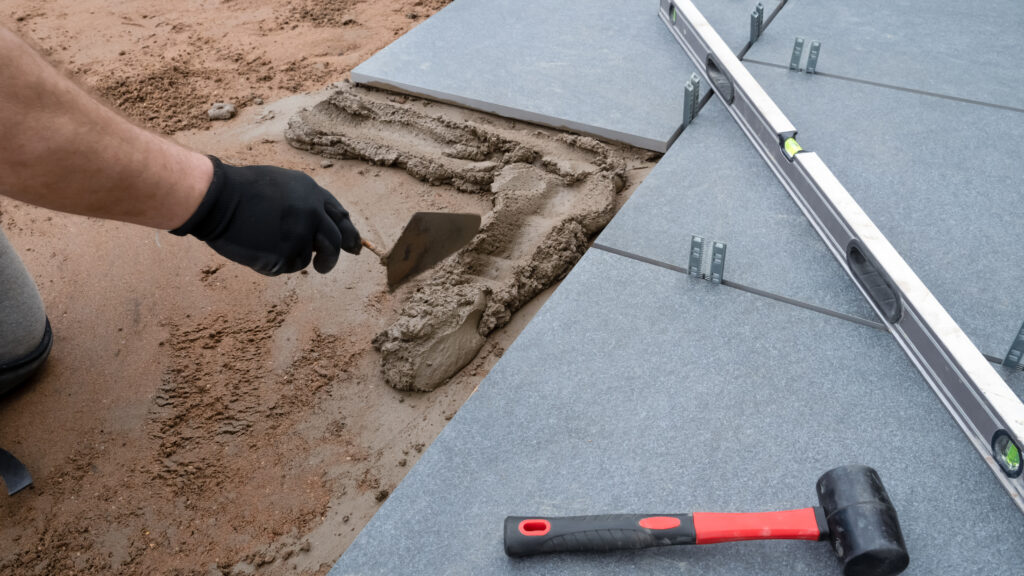 A well-designed patio can be a blissful retreat right in your own backyard. Whether you're looking to create a cosy space for intimate gatherings or a spacious area for entertaining friends and family, learning how to lay a patio is the first step towards transforming your outdoor dreams into reality.
In this comprehensive guide, we'll walk you through each step, from preparing the base to finishing touches. So, let's dive into the world of paving slabs and patio installation!
Step 1: How To Lay A Patio – Planning
Before you start laying paving slabs, it's essential to plan your project thoroughly. Determine the size of your patio area in square metres, taking into account the desired shape and any slight slope for surface water drainage.
Step 2: Gather Your Materials
To lay patio slabs, you'll need the following materials:
Paving slabs (choose from a variety of options like natural stone, textured paving slabs, porcelain paving, or concrete slabs)
Cement mixer
Wooden pegs
Rubber mallet
Plate compactor (wacker plate)
Bedding mortar
Kiln dried sand for jointing
Spirit level
Marker pegs
String line
Jointing compound
Step 3: Prepare the Sub Base
Start by excavating the area for your patio to a depth of 15–20 centimetres, ensuring it's level and has a slight slope for water runoff.
Install a sub-base layer made of crushed stone or sub-base material and compact it using a plate compactor to create a stable foundation.
Step 4: Lay Damp Proof Course
To prevent rising damp, lay a damp-proof course over the sub base. This can be a sheet of damp-proof membrane.
Step 5: Create a Mortar Bed
Mix mortar by combining one part cement and four parts sharp sand. Lay a full mortar bed over the damp proof course, ensuring it's evenly spread.
Step 6: Lay Paving Slabs
Start at one corner and begin laying the first paving slab. Use a spirit level to check for alignment and gently tap the slab into place with a rubber mallet.
Insert wooden pegs at each corner to maintain uniform gaps between the slabs.
Step 7: Continue with the Pattern
Repeat this process for the remaining slabs, ensuring each one is level and has an even gap between them. Use a string line to maintain straight edges.
Step 8: Jointing
Once all the slabs are laid, mix a wet mortar mixture and use it to fill the gaps between the slabs. Alternatively, you can use kiln dried sand as a jointing compound.
Step 9: Finishing Touches
After the concrete mix or jointing compound has set, use a jointing tool to create a smooth and even finish. Remove any excess mixture from the surface of the slabs with a damp sponge.
Step 10: Patio Paving Maintenance
To ensure the longevity of your finished patio, regularly sweep kiln dried sand into the joints to prevent weed growth and maintain the stability of the slabs.
Additional Tips and Safety Precautions
Always wear steel toe-capped boots to protect your feet during the patio installation.
Be cautious of underground pipes or cables when excavating the area.
Consider using a garden roller to compact the slabs further.
For larger paving projects, consider hiring a cement mixer for efficient mortar mixing.
If you're working on a patio with a gradual slope, pay extra attention to the drainage to avoid damp patches.
Conclusion
In conclusion, mastering how to lay a patio can transform your outdoor living area into a haven of relaxation and entertainment.
By following the steps outlined in this guide, you'll be well on your way to creating a stunning patio that enhances your home's appeal and functionality.