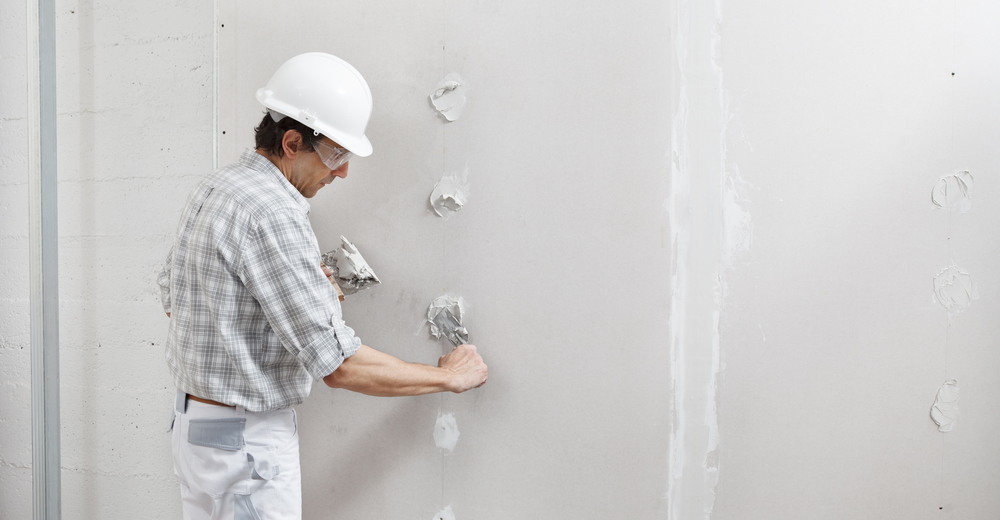 If you're not familiar with how plasterboard can be fixed to walls and other applications, then buckle up as we guide you through the ins and outs of the dot and dab method: a process in which plasterboard is attached to a concrete or brick wall – generally a solid masonry wall.
As the name would suggest, a dot and dab wall, otherwise known as a drylined wall, involves making small 'dabs' of plasterboard adhesive across a wall surface and then pressing it into place. This technique is often used when the surface to which the plasterboard is being fixed is uneven, as it helps to create a smooth, level surface without using wet plaster. Since you are avoiding the faff of wet plastering, you can also paint your application in record time – as you cut out applying and drying times.
When is it Appropriate to Dot and Dab Plasterboard?
Dot and dab (also known as dry lining) is most commonly used to fix plasterboard to walls, but it can also be used to fix boards to ceilings, or insulated plasterboards to walls. It's a quick and easy way to attach plasterboard, and is one of the most common methods used.
Dot and dab walls comprise a solid wall with plasterboard stuck onto it using "dabs" of adhesive. This creates a small void (usually around 10-20mm) in the wall which is faced with plasterboard.
First, you'll need to know know what type of wall you have:
If your wall is masonry, then dot and dab will be the easiest way to fix the plasterboard. Solid walls will be very hard and won't flex under the weight of your hand. Plasterboard walls, on the other hand, will almost always sound hollow; you can determine this by giving the wall a quick knock.
If your wall is made of wood or metal studs, then you should use a different technique such as screwing or nailing the boards into place
You'll also need to take into account the weight of the plasterboard. If the board is too heavy, then the dot and dab may not be strong enough to hold it in place. In this case, you may want to screw or nail the boards into place for additional security.
When dot and dabbing, it's important to use an appropriate plasterboard adhesive. A good quality dot and dab adhesive will help to keep the board in place and prevent it from falling off. For this reason, plasterboard adhesive is also known as bonding compound.
How To Dot & Dab Insulated Plasterboard
Installing insulated plasterboard is a simple process and requires no specialist methods. Simply raise the board and hold it against the wall, ensuring all edges are straight and level. Once you have applied the adhesive, press the plasterboard onto the wall and hold it firmly until you are sure it is attached. If you have any concerns about the plasterboard being straight and level, a featherhead tool can be used to ensure a smooth surface, as its edges are straight by design.
Dot & Dab Equipment Essentials:
Plasterboard
Adhesive
Clean mixing stick & bucket
Paint scraper/trowel
Measuring tape
Feather edge
Nails & hammer or power drill and screws
How Else Can Plasterboard Be Applied?
Dot and dab is used where there is no stud wall to screw (or nail) the plasterboard to. If dot and dab isn't suitable for your project, then stud work may be a better option. This technique involves attaching the plasterboard to metal studs or timber studs that have been placed at regular intervals along the wall. This provides a more secure fixing than dot and dab and is often used in areas where there is a higher risk of the boards delaminating from the wall due to an uneven surface.
There are many dot and dab plasterboard wall fixings available on the market, such as Corefix fixings which are purposed to secure flatscreen TVs, shelves, and other heavy fixtures to any plasterboard over blockwork wall in your home.
Dot and Dab Considerations
Upsides:
Both dot and dab and wet plastering have their merits. On the whole, dot and dab method has a bevy of advantages over traditional wet plastering:
Additional cavity behind the drywall
Improved sound and heat insulation (so long cold walls)
Speedier installation process – can be painted immediately after installing
A more even and smooth wall surface
Downsides:
If one of your goals is to ensure that a room is soundproof, then dot and dab may not be the best option. This is because dot and dab does not always create a completely airtight seal, which means that sound can travel through the wall. If you're looking for a soundproofing solution, then you may want to consider using a different technique such as boarding up the wall with acoustic plasterboard.
The downside of dot and dab is that the plaster is more prone to cracking than a traditional wet plaster finish. This makes it less durable in terms of its strength – we've probably all seen dents and knocks in a plasterboard wall.
It is always best to consult an expert on what plasterboard type should be used and what technique is best applied to fix plasterboard to an application.