Timber Frame Construction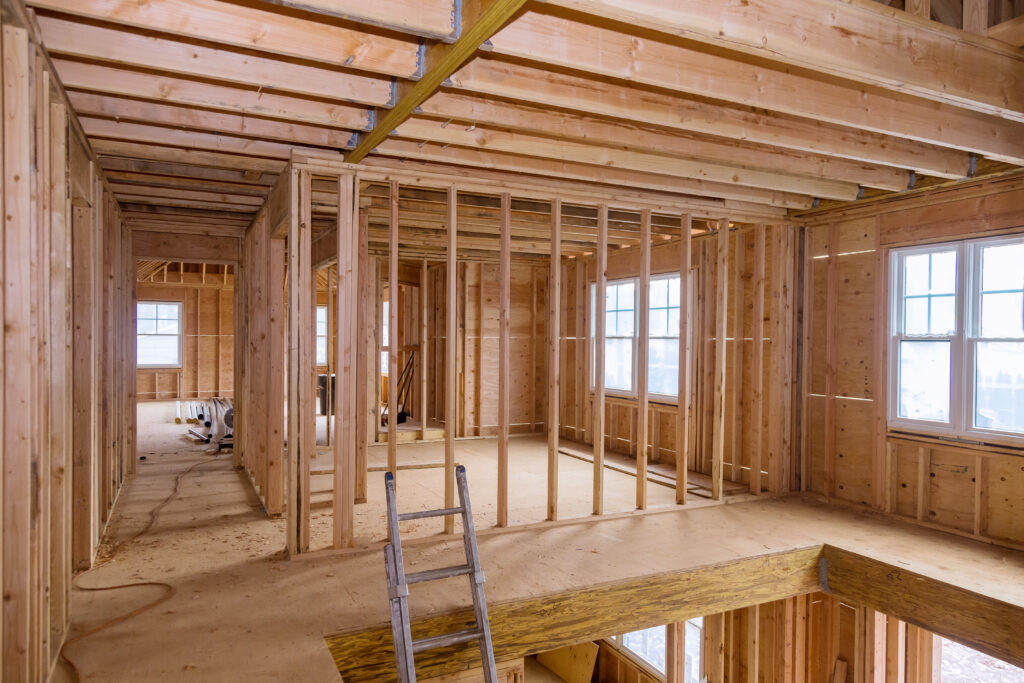 Timber frame construction is a building method that uses precision-made timber frame panels and has become increasingly popular in modern architecture.
Emphasising energy performance, thermal efficiency, and sustainability, this method caters to the demands for well-insulated and cost-effective buildings.
Timber is considered a sustainable building material – provided it is well managed through certified channels it has much less impact on the environment that many others materials such as concrete.
So, let's explore this building method in detail.
Timber Frame Structure: An Overview
Firstly, a timber frame structure consists of vertical studs and horizontal members, together forming a strong and rigid frame.
Typically, the frame is infilled with insulation and sheathed with sheet material such as OSB forming what is often referred to as structural insulated panels. This is wrapped with a breather membrane, thereby enhancing weather protection.
Timber Frames in Residential Buildings
Moreover, timber frame houses are on the rise, as they offer flexibility in contemporary design and construction. A timber frame house can be built away from the building site in a factory-controlled environment, thereby ensuring the best quality and precision.
It is also possible to build the frame on site, however, time and labour implications should be considered.
Construction Process of Timber Frame Buildings
Ground Floor Construction
The construction process commences at the ground floor. Here, builders provide a solid foundation for the frame typically with masonry, concrete or a timber sole plate.
Erection of Timber Frame Panels
Next, workers erect the timber frame panels, forming both external and internal walls of the building. This step includes installing timber studs and wall panels, consequently offering structural support to the external face of the building.
Roof Structure
Then, roof trusses are used to construct the roof structure, followed by roof tiles that add to the aesthetic appeal. Furthermore, trussed rafters support larger spans, offering additional flexibility in design.
External Cladding
Subsequently, builders add external cladding to the timber-framed building. They often use materials like brick outer leaf or others, depending on the desired finish.
One key benefit of timber frame construction is that is can be using in conjunction with a vast array of external and internal finishes. Attractive and durable brink facades, external render systems, and timber cladding are all examples of finishes that can be applied to achieve the desired finish and budget.
Energy Efficiency Measures
After that, a vapour control layer is introduced along with insulation, optimising heat loss prevention and ensuring a well-insulated timber frame home.
Note – the vapour control layer is installed on the internal face of the timber frame, normally just behind the plasterboard. It is designed to prevent interstitial condensation within the wall build which could otherwise lead to moisture issues.
Benefits of Timber Frame System
Modern Timber Frame: A Sustainable Approach
In the context of sustainability, modern timber frame buildings are gaining popularity for their energy efficiency, utilising solid timber and oak frame construction.
Cost-Effective Solution
Additionally, timber frame houses offer a cost-effective solution in short supply situations, fulfilling minimum requirements for construction without compromising quality.
Flexibility in Design
With timber frame homes, contemporary design meets flexibility. Whether it's a traditional or modern approach, timber framing caters to various architectural preferences.
Fast and Efficient Build Process
In timber frame buildings, the build process is streamlined. Remarkably, many components are manufactured off-site. This efficient approach allows follow-on trades to proceed quickly, making self-build a viable option.
Choosing a Timber Frame Supplier
Finally, selecting the right timber frame supplier is vital for quality construction. Look for expertise in frame construction, including platform frame and balloon frame options.
Conclusion
To conclude, timber frame construction offers a versatile building method that's rapidly growing in popularity. From the ground floor construction to the whole building, this method guarantees quality and efficiency.
Whether you seek a one-floor house or larger spans, timber construction with its breather membrane, vertical studs, and service void is a trend worth exploring.
Note: Always consult with an experienced professional when considering timber frame construction for your project, as requirements and regulations may vary based on location and individual needs.