Best Way To Insulate a Summerhouse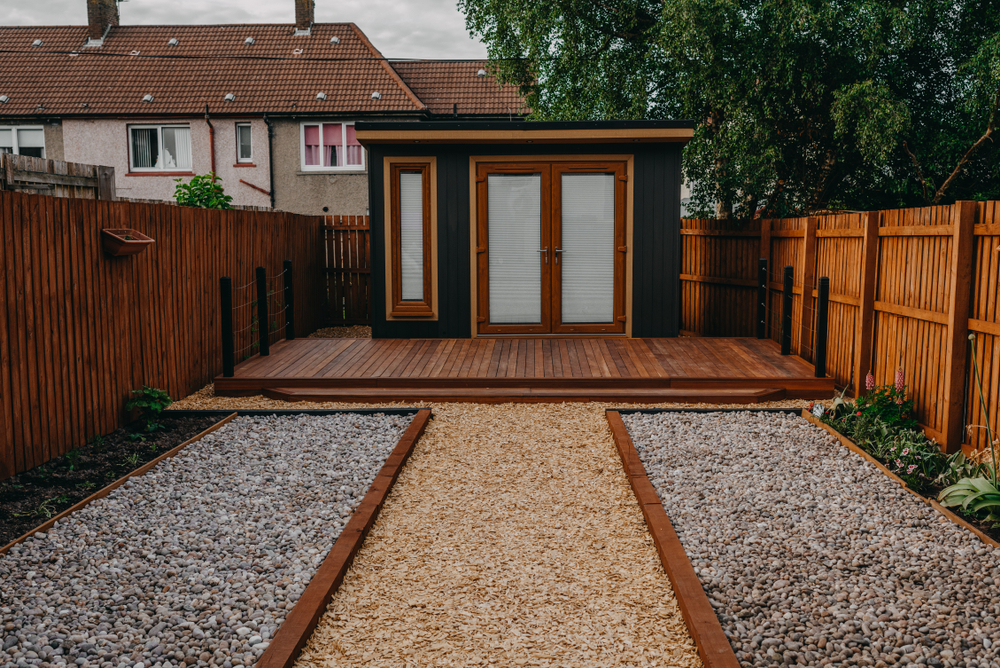 Ah, summertime…the perfect time to venture away from the hustle and bustle of everyday life for a jaunt in your newly built or freshly renovated summer house. But before you start dreaming about barbecues on the terrace and good times spent with friends, we're here to remind you about one important factor – insulation. Here at Materials Market, we know the importance of keeping things comfortable in your refuge from reality. Hence why we've researched some tips and tricks to help you convert your summer house into a year-round space. What is the best way to insulate a summerhouse? Let's get into it!
Why Insulate A Summer House?
Before we tackle the best way to insulate a summerhouse, we must first get to the heart of 'why' insulating a summer house is a good idea. To do this, let's break down exactly what insulation does. Insulation not only ensures that your comfort shoots up but that your energy bills go down. Without adequate insulation, moisture can infiltrate a structure, causing a host of structurally threatening repercussions such as rot and condensation.
However, like sheds and other garden rooms, there are a host of ways that you can insulate garden buildings, summer houses included. Insulating your summerhouse can be as simple as installing insulation in the floor, walls and roof – much like you'd insulate a regular home.
Preparation
Before we delve into which summer house insulation material or shed insulation method is best, it's crucially important to ensure that the garden building in which you'll be applying it is free of structural damage and holes/gaps. Should you spot any openings that could compromise the heat retention of the structure, invest in a quality caulk and sealant to patch these up. Good builds start with good foundations, after all.
When going in with the caulk and sealant, you'll want to ensure that you're focusing on exterior windows and doors, trim and siding – all of which are most vulnerable to the outdoor elements.
Ventilation and airflow are two other critical considerations when adding insulation to any structure. If moisture were to be trapped behind insulation, for example, it could cause long-term damage. If in doubt, please consult a professional.
Roofing Thermal Insulation
Now that we have primed the structure, we can get down to the details and determine the best way to insulate a summer house. Should your summer house feature a wooden roof, the best course of action would be to insulate the roof joists.
To do this, we recommend cutting PIR insulation boards and friction-fitting them into place. Prior to doing so, it is essential to fit a breathable membrane against the roof. Or, to simplify things, you could utilise PIR insulation boards with inbuilt breathable membranes. Foil-backed insulation boards are suitable in this case, as the foil essentially acts as a vapour barrier which resists moisture. Another insulation board which comprises an inbuilt vapour control is the Ecotherm Eco-Versal.
If it's a flat roof you're working with, consider using insulation rolls. Comprised of glass mineral wool, these rolls can be fixed to the roof with an adhesive or using insulation nails.
Once the insulation is firmly in place you can apply plywood or MDF to the underside of the roof structure.
Here at Materials Market, we stock an extensive range of building materials to assist you in any building project, no matter the scale.
Multilayered Foil
Foil-backed compressed insulation comprises a multi-layer composition designed to minimise heat transfer. Its innovative outer layer system of aluminium foil works to reflect heat back into a structure, making it an ideal solution for insulating a summer house, shed or garden room.
Despite its technical build-up, multifoil is actually a great deal thinner than standard insulation products. This slender profile suits it for installation alone or within a build-up of other materials.
Interior Wall Insulation
The term 'insulation' and 'Celotex' go hand in hand. Celotex Insulation Boards are a premium-grade, multi-purpose, BBA-certified thermal solution designed for use in a huge range of domestic and commercial applications.
With a thermal conductivity value of just 0.022 W/mK, Celotex PIR insulation boards promise increased comfort levels and temperature regulation when applied within interior walls. Don't be fooled by branding alone, however, EcoTherm, Recticel, Kingspan, and Xtratherm do exactly the same job.
Provided that the structure has been lined with an insulating material (such as foam or wool insulation) and a vapour barrier, plasterboard can then be applied over the insulation. Plasterboard is a quick and effective solution to achieving a sense of 'homeliness' within your summerhouse, creating a uniform and sleek aesthetic finish that reflects the inside of most homes.
If not plasterboard, the insulation can be layered over with plywood, insulated plasterboard or tongue and groove.
External Insulation
External insulation saves space internally and is often easier to install as a result. However, there is the added expense of cladding the insulation to make it weatherproof. Examples of external cladding types include – timber cladding, composite cladding, and render.
Window Glazing
If your summerhouse features a good few windows you no doubt get the best of the sunshine when summer comes around. In winter, however, these same windows (if not insulated) can threaten bitter cold upon the entire structure, comprising the habitability of the space. This can be a nightmare if you have plans of repurposing your summer house into a garden office or a social hub.
Seeing as windows are infamous culprits of heat-loss, it makes sense that these too will require some form of insulation when keeping your garden building warm. Double glazing is a quick-win way to improve the heat retention of a structure, especially if it features many windows.
Aside from the associative thermal benefits, double-glazed windows offer a myriad of other comfortability perks such as preventing condensation, reducing noise, and beefing up the structure's security.
Conclusion
So, which type of summerhouse insulation is best? As we've established, there are many solutions available on the market, each with its own unique benefits and pitfalls.
Take internal and external insulation, for example. Although internal insulation is cheaper and easier to install than external wall insulation, you may have to sacrifice internal space. While nothing is inherently wrong with either solution, one will suit a given application more than the other. It's just a matter of weighing up which works for you and your project.