Feel good on the go: Nutritionist reveals most nutritional fast food favourites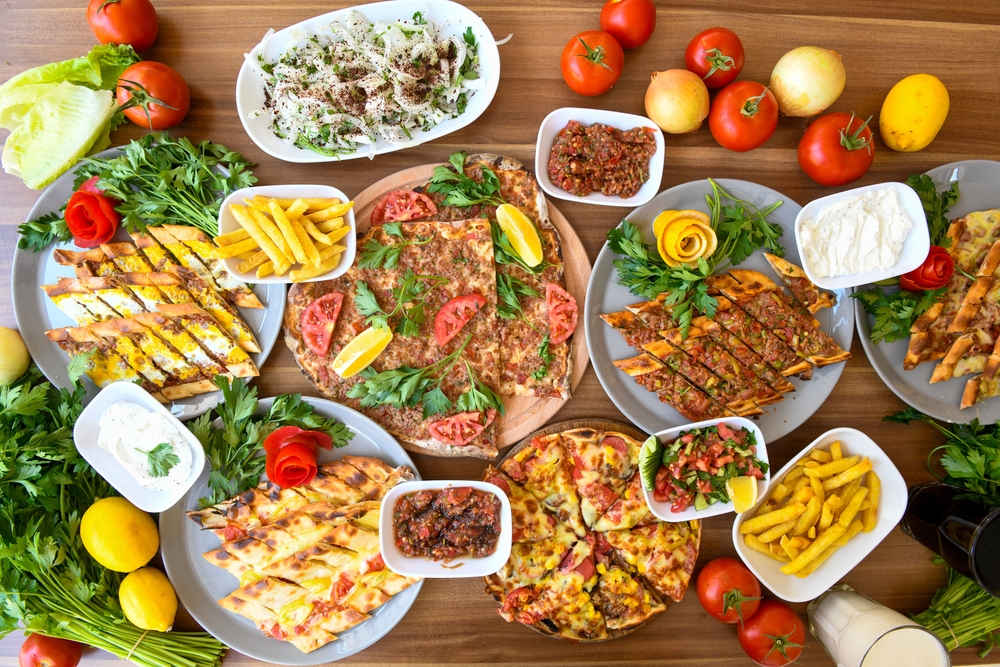 You may remember that not so long ago, we asked a number of tradespeople across the country to vote on their favourite fast food meals for a quick lunchtime bite to eat. Well, it wasn't all for nothing!
We decided to partner with a nutritionist who reviewed the most popular results – as voted for by plumbers, electricians, builders and more – to rank them by their nutritional value.
Adem Yusuf, founder of nutrition service Nutriliant, analysed each of the meals on the list and gave them a score out of five, based on how the calories1, fats2, salt3 and sugar4 content of each item measured up against the daily recommended levels for adults in the UK.
One point was awarded based on the following:
Total number of calories between 600kcal to 680kcal
The fat content was less than 35% of the total Kcal (energy)
The saturated fat content was less than 11% of the total Kcal (energy)
The salt content was a third of the daily recommendation for an adult3
The sugar content was less than 10% of the total Kcal (energy)
Half a point was awarded based on the following:
Total number of calories under 600kcal
All very scientific, so let's get into the results!
The top fast food favourites – as voted for by British tradespeople – and their nutritional scores are:
McDonald's Sweet Chilli Chicken Wrap (with Fries) – 4
Taco Bell Seven Layer Burrito – 3.5
Greggs Chicken-Free Baguette – 3.5
Greggs Breakfast Baguette – 3
Subway Italian B.M.T. – 3
KFC Original Recipe Rice Box – 2.5
Dominos Vegan Pepperoni (single portion) – 2.5
Subway Plant Patty Sub – 2.5
Greggs Sausage Roll (x2) – 2
Subway Meatball Marinara Sub – 1.5
Dominos Mighty Meaty (personal size) – 1
KFC Vegan Burger with Fries – 1
Taco Bell Seven Layer Burrito (with Fries) – 1
McDonald's Big Mac (with Fries) – 1
Burger King Chicken Royale Bacon & Cheese (with Fries) – 1
Taco Bell Volcano Burrito (with Fries) – 1
KFC Mighty Bucket (for one) – 1
Yusuf recommends that as a general rule of thumb, adults monitoring their calorie intake should opt for a lunch ranging from 600kcal to 680kcal, between a breakfast of approximately 400kcal and dinner of approximately 1000kcal. 
According to his research, the McDonald's Sweet Chilli Chicken Wrap with Fries came out on top as the meal with the highest nutritional value on the list, at 660kcal, 23g of fat, 2.6g of saturated fat, 2.3g of salt, and 10g of sugar. The McDonald's favourite achieved an overall score of four, followed by Taco Bell's Seven Layer Burrito, with a score of 3.5.
While this popular Taco Bell pick scored well for its fat, saturated fat and sugar content, it does have a high salt content and a low calorie count, meaning it's not very likely to keep you full for very long.
On the other end of the scale, a large Dominos Mighty Meaty Pizza has been revealed as the least nutritional meal on the list of fast food favourites, with the calories, fat, salt and sugar all well above the daily recommended limit for adults in the UK. 
Top nutrition tips:
While the list above represents the most nutritional fast food favourites chosen by British tradespeople, a supermarket meal deal consisting of a chicken salad sandwich, fruit and a diet drink, for example, would be a healthier and often quicker alternative to a fast food meal.
It's best to refer to the UK's traffic light labels, where high, medium and low amounts of fat, saturated fat, sugars and salt are indicated in red, orange and green to help shoppers understand the nutritional contents of different foods. Try to aim for foods with as many of these factors colour coded green as possible – this will indicate a healthier meal.
Despite the name, fat is essential in the body for hormone production and should not be avoided completely, however, excessive consumption is problematic. Just 1g of fat has over double the amount of energy of carbohydrates, allowing for easy excess consumption without noticing. It's all about balance, so if you're grabbing a last-minute meal, aim for the option with the least amount of fat.
Saturated fat – also referred to as the bad fat – is associated with an increased risk of heart disease and cholesterol, so be sure to keep an eye out for high sat fat content in meals.
While the daily recommended limit for salt consumption in adults is 6g, it's recommended to eat closer to 2.5g if possible. High salt consumption is a massive contributor to high blood pressure and hypertension. Salty foods are also proven to encourage overeating and have long-term consequences.
When looking at the sugar content of foods like this, it's important to remember that the sugar is not naturally occurring and included solely to improve the taste. These "free sugars" often make convenience foods addictive and can lead to conditions such as diabetes. A great way to avoid sugars is to choose a diet/sugar free drink with your meal.
Nutritionist, Adem Yusuf, said,
"It can be tough to make healthy choices that fit your nutritional needs when you're out and about all day – especially when your hungry body is craving something quick and satisfying! If the goal is to pick the 'healthiest' foods, then I would always recommend preparing a meal at home, but this isn't always feasible for tradespeople on the go.
"So, in the event that you're stopping at a service station or passing a fast food restaurant, there are still opportunities to make smart food choices and pick up a meal that won't leave you feeling sluggish or even hungry again in an hour's time. I hope that the list above, along with my guidelines, can provide a good starting point for those wanting to make healthier choices while on the go."
References:
1https://www.nhs.uk/common-health-questions/food-and-diet/what-should-my-daily-intake-of-calories-be/
2https://www.nhs.uk/live-well/eat-well/food-types/different-fats-nutrition/
3https://www.nhs.uk/live-well/eat-well/food-types/salt-nutrition/
4https://www.nhs.uk/live-well/eat-well/food-types/how-does-sugar-in-our-diet-affect-our-health/