What Is Insulated Plasterboard?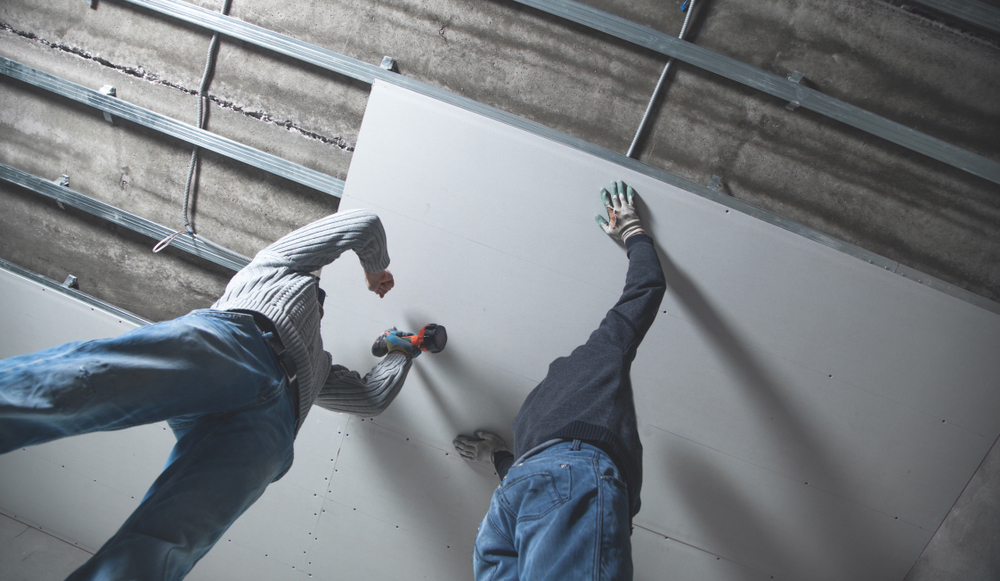 If you're looking to improve your home's thermal efficiency, insulated plasterboard is your one-stop-shop solution. Not only does it insulate walls, but it also dry lines them in a single application!
Insulated plasterboard (otherwise known as thermal plasterboard) is a popular building material, which comprises standard drywall plasterboard or gypsum board bonded to a sheet of insulating material.
Choosing the best insulation plasterboard is imperative to getting the best results. There are many different types of insulated plasterboard on the market, but at Materials Market, we only stock the best from industry-leading brands such as Celotex and Kingspan. So, whether you're looking for a fire-resistant option or one with enhanced acoustic properties, we've got you covered.
Not sure which type of insulated plasterboard is right for your project? Our friendly and knowledgeable team are always on hand to offer advice and support. Get in touch today to find out more.
What Are the Benefits of Insulated Plasterboard?
When it comes to insulating your home, there are a lot of options out there. But if you want the best of both worlds – insulation and plasterboard – then insulated plasterboard is the way to go. Here are just some of the benefits:
Dusts off two jobs in one single operation
Features an insulating material sandwiched against a plasterboard sheet
Has the structural integrity of standard plasterboard and insulation's low-heat transfer properties
Some boards offer high moisture resistance due to the incorporated vapour control layer.
Added benefits such as fire resistance due to the fibreglass and other additives
Quick and easy to install, meaning you can get to the decorating sooner
Types of Insulated Plasterboard
There are several different insulated plasterboard products available on the market, however, there are three main types that you'll most likely come across:
PIR insulated plasterboard – such as Celotex Insulated Plasterboard
Phenolic insulated plasterboard – such as Kingspan K118 insulated plasterboard
EPS insulated plasterboard – such as Thermal Basic Insulated Plasterboard
PIR Insulated Plasterboard
If you're looking for insulated plasterboard that won't break the bank, PIR is a great option. With a thermal conductivity of just 0.022 W/m.K, these boards are an excellent choice for use in external walls, ceilings and floors where thermal performance is key.
Perfect for projects that require extra strength and rigidity
Low global warming potential (GWP) – making them a great choice for the eco-conscious builder
2.4m x 1.2m boards marry the thermal benefits of PIR insulation board with the structural integrity of plasterboard
PIR insulated plasterboard is made up of a slightly thicker gypsum board (12-13 mm) with paper facings
Composed of rigid polyisocyanurate foam and two vapour barriers
Provide excellent thermal performance and fire resistance
We stock some of the biggest insulated plasterboard brands such as Celotex, EcoTherm, Mannok, and Xtratherm.
Phenolic Insulated Plasterboard
When you're in need of a higher performance insulated plasterboard that offers thermal insulation, look no further than phenolic insulation. Phenolic insulation can have thermal conductivity values as low as 0.018 W/mK, making it the best option for thermal protection on the market. Kingspan is the only manufacturer of phenolic high-performance insulated plasterboard. We stock the market-topping insulated plasterboard range that is Kooltherm and the ever-popular Kingspan Kooltherm K118 insulated plasterboard.
These rigid boards provide 2-in-1 thermal protection and drylining for masonry walls and timber frames. They are composed of high-density phenolic foam and are available in a range of thicknesses up to 72.5mm.
EPS Insulated Plasterboard
If you're looking for a cost-effective option, EPS insulated plasterboard is a good choice. EPS insulated plasterboard, sometimes called Thermaline basic or Jablite, comprises a sheet of expanded polystyrene insulation (EPS) bonded to a 9.5mm plasterboard
EPS has a thermal conductivity of 0.038 W/mK which is thermally quite poor, hence the use of 'basic' in Thermaline's title
Due to its lack of thermal performance, it is one of the cheapest choices of insulated plasterboard for solid walls
Sold at 2400mm by 1200mm
A quick, easy solution for people who are working on refurbishment projects
Meet both new build and refurbishment requirements
Where to Install Insulated Plasterboard
Insulated plasterboard is primarily used to line internal walls, most commonly brick walls. Insulated plasterboard can also be used in ceilings, floors, and roofs.
If you are looking for a cheaper alternative to traditional insulation material, insulated plasterboard is the way to go. It is easy to install and will make your home more energy-efficient.
How To Cut Insulated Plasterboard
If you're looking for a way to make your walls stronger and more energy-efficient, insulated plasterboard is the way to go. But be warned: cutting this stuff is not for the faint of heart! The two-in-one nature makes these boards far stronger and more difficult to cut than normal plasterboard.
You'll need a saw with fine teeth to get through it, and you should always take proper safety precautions when cutting insulation. So put on your safety goggles and gloves, and clear some space in your work area before you get started. Happy cutting.