What Are The Best Flat Roof Insulation Products?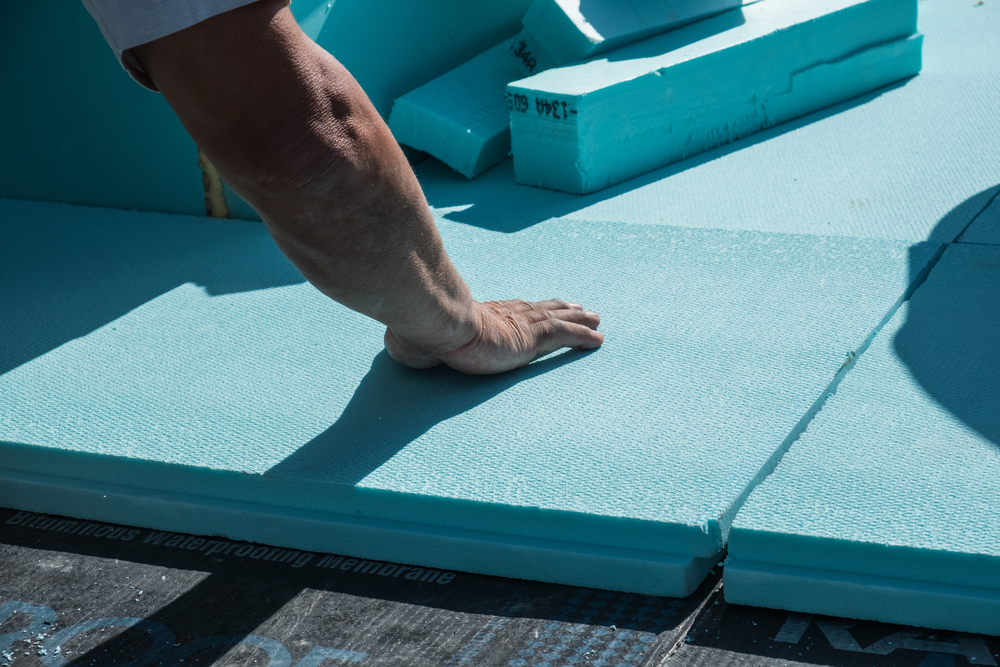 Energy conservation is a top priority for any homeowner, and roofing insulation plays a crucial role in this. But what is the best flat roof insulation and why is it so important in a structure?
Given the fact that 30% of your energy escapes through the roof, flat roof insulation is as important a measure as any to ensure the thermal envelope of your property is kept sealed and as efficient as possible. In optimising the energy efficiency of a structure, you consequently lower bills and no doubt, the stresses surrounding the current economic crisis.
However, not all flat roof insulation products are created equal. When choosing a flat roof insulation product, it is important to consider its thermal conductivity, permeability, and resistance to moisture and rot. Throughout this blog, we'll guide you through the different types of flat roof structures and the best thermal materials to line them with.
What Is Flat Roof Insulation? 
By definition, a flat roof, according to BS 6229, is "having a pitch less than 10° to the horizontal." Insulating a flat roof is an entirely different process from that of a traditional pitched roof. However, doing so can have significant economic benefits such as lower energy use and decreased household bills, helping you to save money that most (literally) cannot afford to lose in the current monetary climate.
Additionally, insulation provides protection against condensation buildup. Not only are flat roofs susceptible to leaks, but they are also often impacted by condensation, especially domestic-scale timber roofs. It is important to understand the relationship between thermal performance, air leakage and condensation before designing a flat roof and purchasing flat roofing solutions.
Before we dive into the products themselves, let's first consider the different types of flat roofs.
Types of Flat Roofs
If you're looking to install flat roof insulation, it's best to do so from the outside. 

Flat roof insulation costs will depend on which insulation method you choose and the amount of roofing insulation required. There are two common options; either overlay the existing flat roof with insulation materials or gut the system entirely and start anew.
Warm Flat Roof 
In general, a flat roof structure should be insulated from above. Warm roof construction sees warm flat roof insulation placed above the joists/roof deck and below the waterproof membrane, making it part of the warm fabric of the building.
The vapour barrier rests on top of the decking but underneath the insulation material; insulation can be adhered, mechanically fixed or loose-laid.
Cold Flat Roof 
The process of installing cold roof insulation sees thermal insulation placed beneath the structural deck and roof joists that support the roof structure, allowing it to remain 'cold'. Cold flat roofs require a vapour control layer to function effectively, in conjunction with adequate ventilation to allow water vapour to escape before it condenses on the cold deck.
What Is The Current Target U-Value For Flat Roofs?
To comply with current building regulations, all new or replacement flat roofs should be thermally insulated to a U-value of 0.18W/m²K.
Flat Roof Insulation Materials
Now we have established the different types of flat roof structures, let's take a look at the best flat roof insulation products on the market.
Typically flat roof and loft insulation comes in board form and usually has a layer of PIR, polystyrene, or mineral wool between two layers of paper or foil. Choosing the right insulation is imperative to getting the best results.
As ever, we advise consulting a professional before tackling the installation process to ensure your work adheres to building regulations/standards.
Kingspan Thermaroof
Kinsgpan Thermaroof TR24, TR26 and TR27 flat roof insulation is a high-performance foam insulation range featuring thermal conductivities of 0.022 – 0.027 W/mK, carving them a place amongst the more thermally efficient flat roof insulation products on the market.
Each product is suitable for a different type of waterproofing (torch-on felt, single ply membrane – fully-bonded and mechanically fixed).
Let's check the specs:
Suitable for use with most mechanically fixed single-ply waterproofing systems
Compatible with most green roof systems
Ideal for new build and refurbishment projects
Resistant to the passage of water vapour
Suitable for fast-track building programmes
EcoTherm Eco-Deck
EcoTherm's EcoDeck is a robust, structural, pre-insulated thermal flat roof decking that allows users to deck and insulate with one innovative solution.
Eco-Deck consists of a 2400mm x 1200mm EcoTherm Insulation Board bonded to a 6mm Plywood Sheet. This dual composition saves time as both insulation and plywood can be installed together. The most popular thicknesses are 56mm, 96mm and 126mm.
Stable, rot proof and durable
Suitable for use with mechanically fixed single-ply waterproofing membranes, mastic asphalt, roll & pour and adhered systems
Resist attack by mould and microbial growth
Inherent moisture resistance – aids in minimising both surface and interstitial condensation
High water vapour resistance
Eco-Therm Eco-Torch
Eco-Therm Eco-Torch flat roof insulation is a high-performing 5 in 1 flat roofing insulation board designed to be installed with torch-on felt (hence the name). Eco-Torch features a glass tissue face on one side and bitumenised glass tissue with polypropylene fleece on the other.
Compatible applications:
Torch-On Felt System
Single Ply Membranes
Mastic Asphalt
Roll and Pour Felt
Fully Adhered Single Ply Systems
Recticel Powerdeck
Recticel Powerdeck F is a closed-cell flat PIR roof insulation. It features a perforated mineral-coated glass fibre tissue face and is compatible with full bonded single ply waterproofing systems.
Suitable for use in warm flat roofs under built-up felt, mastic asphalt and approved single-ply membrane waterproofing systems
Compatible with multiple waterproofing systems
High compressive strength and excellent dimensional stability
CFC and HCFC-free (zero ozone depletion)
Exceptionally low thermal conductivity of 0.026 W/mK
Rockwool HARDROCK
Rockwool HARDROCK flat roof insulation is a high-performance product that is made from mineral wool.
A1 non-combustible
Excellent performance in fire resistance and acoustics
Water repellent
High compressive strength
Good dimensional stability and high hydrophobicity
Conclusion
When it comes to choosing the right insulation for your project, quality pays off. Don't spend your money on inferior insulation that will only last a few years. Go with a reputable brand and consult with a contractor for reliable and longer-lasting results.
When selecting an insulation material for your building, it is vital to consider more than just the price. Cheaper materials might seem like a good idea at first, but they will not last as long or protect your building as well in the long run.
The most important factor to look at is thermal conductivity. This number indicates how effective the insulation will be – the lower the better. Keep all of these things in mind when you are reviewing insulation options.